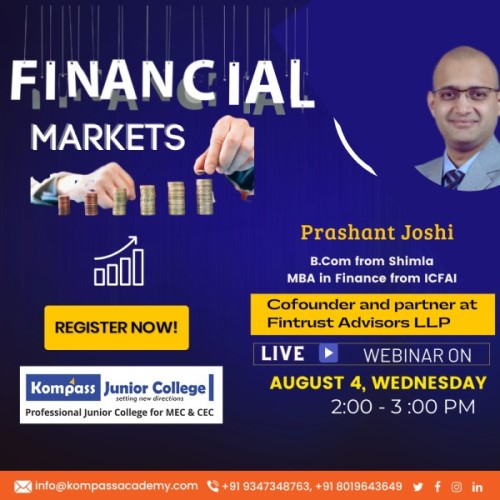 Upskill your knowledge of the financial market and examine the role of money in the economy.
Join The Kompass Knowledge Series – A Guest Session with Prashant Joshi
Topic: Financial Markets and careers in finance.
Live Session on Wednesday, August 4 from 2:00 to 3:00 PM
Limited Seats. Book Your Slot Now!
or Call us @ +91 9347348763 or +91 8019643649
Know Your Guest:
Prashant comes with 17 years of deep experience in research, private banking and family office space. He has advised many of India's leading business families on issues related to family governance, setting-up investment framework, portfolio strategy, managing family domestic investments, investment advisory and Succession & Estate planning.
Clients and peers alike appreciate and acknowledge his opinion and ability to
weave in bespoke practical solutions and improvements. Prashant has witnessed multiple market cycles and his views on asset classes, markets and research get covered regularly in various national media.
Prior to founding Fintrust Advisors, Prashant has worked with Confederation of Indian Industry (CII), HSBC Invest direct erstwhile -IL&FS Investment, ICICI Bank – Private Banking, ING Private Banking, Religare Macquarie Private Wealth and Motilal Oswal Private Wealth. He has won several awards and titles, which is a showcase of his excellent leadership qualities, customer focus and razor-sharp eye for details.
Prashant has a Bachelors' degree in Commerce (B.com), Shimla and a Masters in Management Studies (Finance) from ICFAI, Hyderabad.