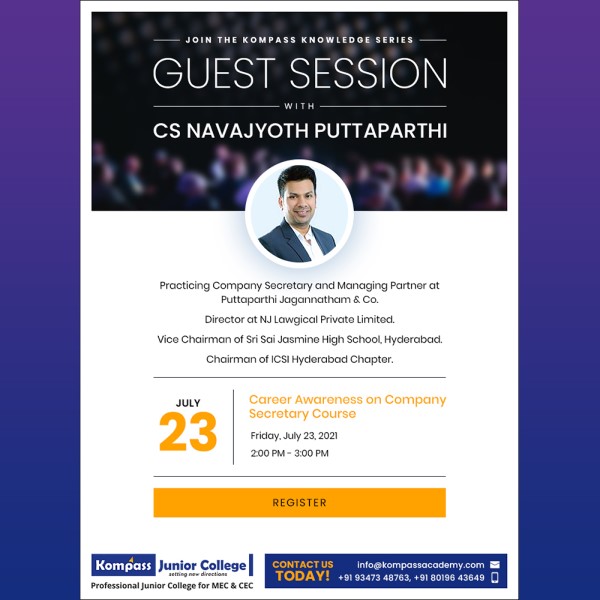 Join The Kompass Knowledge Series – A Guest Session with CS Navajyoth Puttaparthi
Topic: Career Awareness on Company Secretary Course.
Live Session on Friday, July 23rd from 2pm onwards.
Register Now!
or Call us @ +91 9347348763 or +91 8019643649
or Email us @ [email protected] for more details.
Know Your Guest:
CS Navajyoth Puttaparthi is a Practicing Company Secretary and a Managing Partner at Puttaparthi Jagannatham & Co., Company Secretaries. He is also a Director at NJ Lawgical Private Limited, a Legal Firm, and also serves as a Vice Chairman of Sri Sai Jasmine High School, Hyderabad.
He is a F.C.S Member from the Institute of Company Secretaries of India and has done his LL.B & M.Com from Osmania University, Hyderabad.
He has 10 years of experience as a Company Secretary and worked in corporate as a Whole Time Company Secretary and also as a corporate consultant in a legal firm "Fox Mandal & Associates, Hyderabad for around 4 years. Apart from secretarial and legal, his areas of expertise are in FEMA & Listing Compliances.
His father CS Jagannatham Puttaparthi, Past SIRC Chairman of ICSI inspired him to serve the institute of ICSI. With this great passion, he served the institute in the honorarium post of "Secretary" & "Vice Chairman" of ICSI Hyderabad Chapter for the years 2019 & 2020 respectively and now he is the Chairman of the ICSI Hyderabad Chapter.