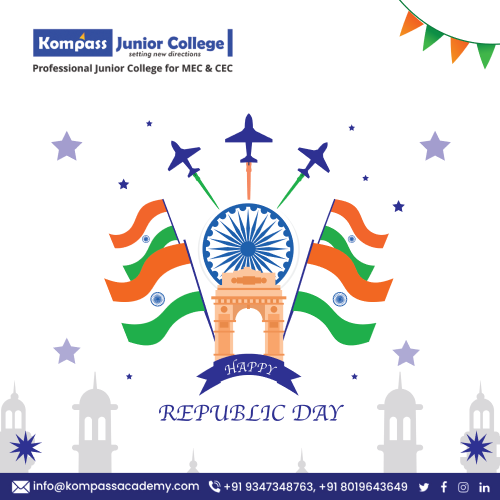 As our country completes 75 years of freedom later this year, the theme 'Imagining India at 100 years age' has been very aptly selected. The event that will unfold in front of you will bring some facets of that but what I'll be trying to do is talk about how the microcosm of Kompass and its students will look like in the next 25 years.
Kompass is just 3 years young and 25 years later, hopefully with your best wishes, will be a bastion of knowledge and learning. It would become a beacon for students who want to think differently from others while choosing their streams, whose parents gave them the freedom to choose. As an institution, which is making a mark in setting new directions, at Kompass, I'm today reaching out to the society to quote unquote 'Give your child the freedom to choose'. Give them the liberty to chase their dreams and carve out their destinies, and you will see that they will kiss the skies.
All the parents here have done that, of giving their child the freedom to choose Commerce education and I thank and congratulate you for that.
In the next 25 years, the students of Kompass will go on to become accomplished entrepreneurs, distinguished lawyers, admirable civil services officers or successful business leaders. Above all they will become better human beings too. And that I'm quite sure of. The two years that students spend with us make them not only academically competent, eloquent communicators but also instill in them values of compassion, collaboration, creativity and courage that will make them shine in a society that will need more and more of such fine human beings.
Kompass, as I crystal gaze, will become a force to reckon with in the field of education, providing courses in not just Commerce but professional programs for various competitive forums, higher education and may even be a University. Well only time will tell but I'm sure with the efforts of the team at Kompass and the well wishers we have in the form of our parents and students, I think it won't be just a pipedream.
This is how I Imagine Kompass and its students will be in the next 25 years. Thank you.
I wish you and your family members a very Happy Republic Day. Jai Hind!