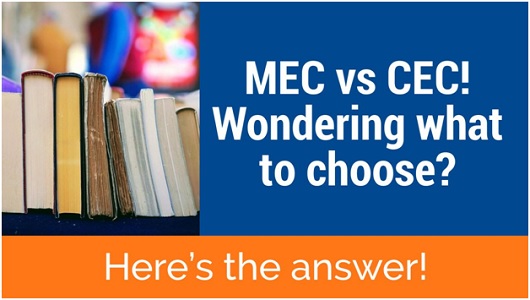 Wondering which is better – CEC or MEC? Well! The answer is quite simple.Both CEC and MEC are excellent options! Both of them leads to almost similar career options such as offers scope to opt C.A., C.S., and ICWA, business (Entrepreneurship), management, accountancy, economics, finance, etc., which can help in various career opportunities.
MEC (Mathematics-Economics-Commerce), CEC (Commerce-Economics-Civics) both of them are a popular choice among students who have just completed class X.
Why should you listen to us?
At Kompass Junior College, we believe in students and their true potential. We are a pioneer in our focus and effort on offering top-notch professional and high-quality education. We don't just teach students; we prepare them for a better future.
Being the best college for MEC and CEC, we can assure you that we believe in the vast potentials of both courses. With an impeccable track record, we are one of the best MEC and CEC colleges in Hyderabad.
We can confidently say that both CEC and MEC are better choices, provided the students get proper guidance and assistance. So let us break down and tell you what CEC and MEC students can choose as their courses and careers.
Careers
As we said earlier in the post, both CEC and MEC are good options. So let us look at how MEC and CEC prepare students for future opportunities.
MEC
MEC students can choose from the below-mentioned courses after they complete MEC in intermediate –
Bachelor of Business Administration
Bachelor of Science in Mathematics
Bachelor of Commerce
Bachelor of Arts in Economics
Bachelor of Fine Arts
Bachelor of Arts in English Literature
MEC students can have the following job opportunities after their graduation –
Financial Analyst
Economist
Statistician
Marketing Manager
Chartered Accountant
Cost and Work Accountant
Research Analyst
Company Secretary
CEC
Here are the courses that CEC students can opt for after completing CEC in intermediate –
Bachelor of Commerce
Bachelor of Economics
C.S.
C.A.
Multimedia courses
Bachelor of Business Administration
These are some of the jobs that a CEC student can go for after graduation –
Market Analyst
Chartered Accountant
Company Secretary
Manager
Analyst
Accountant
More reasons to choose us!
Let us list down more reasons why you should choose us –
We are one of the best intermediate colleges for MEC and CEC.
We have an efficient team of highly experienced trainers and teachers who are experts and passionate about grooming students in every aspect.
We use psychometrics to scientifically assess students on their strengths and innate abilities.
We monitor and constantly counsel students to make sure that they feel valued and stay on the right path. As we said earlier, we don't just teach students; we prepare them for a better future.
Students are given mock tests to identify their areas of improvement and give them the experience of online entrance exams. Additionally, we engage them with various online tests and practices to keep them up-to-date.
To make sure that every student gets the best guidance and education, we offer a mandatory offline time where each student gets a chance to clear their doubts and queries.
Limited batch size of 30 students/classroom to ensure that every child gets personal attention.
Expert faculty from premier institutes such as IIMs, NLUs, OU, etc.
Lastly
Whether CEC or MEC, our students are prepared with utmost care and sincerity. We are driven by results and don't compromise with the quality of the education.
For more information contact us!