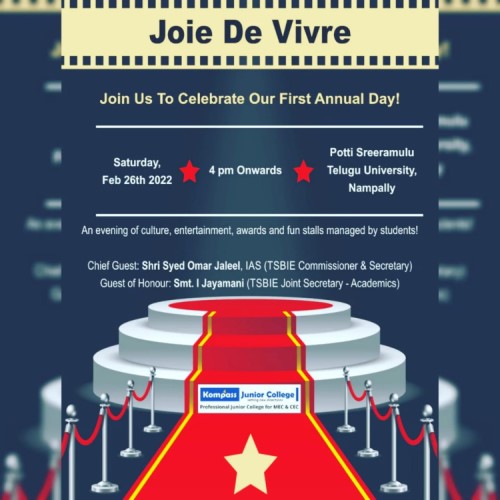 Honourable Dignitaries, respected parents and family members of Kompass Team and my dear students, a very good evening.
We are almost 4 years old but the irony is we are celebrating our First Annual Day. It is like a baby being born in a leap year on Feb 29th, who gets to celebrate her birthday only once in 4 years.
This has happened, as you all know, because of COVID. COVID has been hard on all of us. Some of us suffered from the disease while some of us lost our loved ones. It changed the way we work, study, communicate and most importantly build and sustain our relationships.
We reached out to to help complete strangers, sometimes by money and at other by means. This became almost a virulent norm and that made us more human.
At Kompass, we helped students study without interruption. We invested into systems, into processes and into people, so that our students get a seamless learning experience. At times, we might have stumbled but thanks to my extremely resilient team, we never gave up.
We continued the process of teaching and learning even when some parents found it financially difficult to pay the fees on time.
I am hoping all that is behind us and I'm looking forward to healthier and happier times for learning for all the students.
When I look back at the years gone by, I'm quite proud to share that we built to last. In tough times, we buried our heads in the sand, like the proverbial ostrich and worked hard. We created an augmented curriculum to make Commerce education fun as well as competitive. We focused not only on content but also on delivery. We gave personal attention to each and every student, which has come to become our DNA.
We grew the process of learning with co-curricular activities like Student Clubs themed around subjects, we got our Student Council in place whose members I'm very proud of. We partnered with Clever Harvey and Trinity College London to offer courses on entrepreneurship and English linguistic proficiency respectively. And we continue to work harder.
Some of you already know that we moved into a new premises recently. We want to give well ventilated and a conducive learning space to our students and this is a step in that direction. As I said, we continue to build.
Speaking of Commerce Curriculum, I have come to realise that the purpose with which we started Kompass is only partially fulfilled. Commerce in this part of the country is looked down upon as a second choice and I want with all my might, along with my team and students, want to change this perception. As some of you know, I studied science, and I thoroughly enjoyed doing so. Just that I'm saddened by the way education is imparted nowadays and the way Commerce is perceived. Today, Commerce students can get into IIMs and NLUs, which are counted among the best in the world. Fresh IIM graduates are getting eye-popping salaries of 60 lacs per annum. I sincerely request parents to give your child the freedom to choose and you will see the places they will go. I can't bring about this change alone but I'm sure together we can.
I would like to express my sincerest gratitude to Shri Syed Omar Jaleel Sir and Smt Jayamani Ma'am for their guidance and support. I have always found a listening ear in them whenever I met them for help for our junior college.
I am coming to the end of my speech and I want to especially tell my second year students that these two years have been different and difficult for you but hopefully these two years you will cherish forever. I also want to tell them that this is not the end, this is not even the beginning of the end, this is just the end of a beginning. And I wish you and also the first year students all the best for your upcoming Board exams. I'm sure all of you will make us proud.
This Annual Day is a celebration of the spirit of being human, of being healthy and happy and of being alive and kicking. Joie de vivre is in this spirit. Our students have put in a lot of effort, despite their rigorous academic schedule and I hope all of you will encourage them with non-stop cheering and applause. Show them some love please.
Children are persistent and don't give up. The Baby (I spoke about at the beginning of my speech) will celebrate its birthday not after 4 years, but next year, and I am confident to continue celebrating our Annual Day next year again at Kompass Junior College.
Thank you!